Aarhus Institute of Advanced Studies
Aarhus Institute of Advanced Studies (AIAS) is a university-based Institute for Advanced Study, initiated by Aarhus University to advance highest quality research by attracting talented, highly qualified researchers worldwide and within all disciplines. AIAS is an independent institution built on the classical ideas of an Institute for Advanced Study: a place for excellent researchers to undertake free and independent research projects for a period of time, via one to three year fellowships.
About 35 fellows from all over the world and from a diversity of academic disciplines are hosted by AIAS at any given time. The Institute offers career and competence development to all fellows, and fellows are encouraged to participate in various kinds of collaboration and exchange with other fellows, and with researchers, research groups and advanced students at Aarhus University and abroad. The weekly Fellows' Monday Lunch and Monday Fellows' Seminars serve to bring fellows together across disciplines, nationalities and seniority.
The entire disciplinary spectrum
At AIAS, research is completely bottom-up as fellowships are open to researchers from all academic areas, and fellows are free to choose their own research topic. Fellows are selected in international triple peer-review solely according to the criterion of excellence, and AIAS supports all kinds of disciplinary research projects that benefit from being carried out in a multidisciplinary setting. As a result, the Institute covers a wide spectrum of scientific fields: from research in genetics, through climate change in the Arctic, to political science or literary studies. All year, an extensive program of lectures, workshops, conferences and other events is offered to fellows, to the AU faculty and students, and to the public.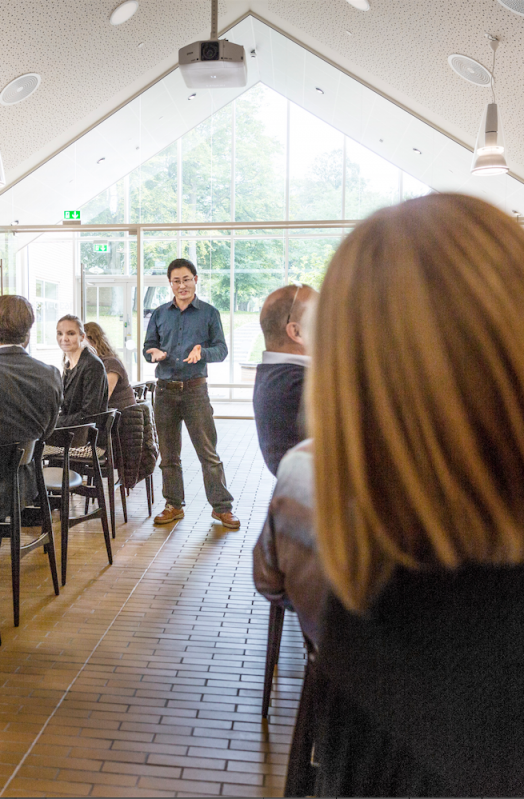 Due to the multidisciplinary and international environment of the Institute, fellows have ample opportunity to extend scientific collaborations and exchange ideas across academic disciplines, research traditions and cultures. The Institute encourages such collaborations by offering the facilities needed and by administratively and financially supporting events and projects that are born during their fellowships, as well as after their stay at AIAS. Historically, AIAS has had an equal representation of Natural Science/Health and Arts/Social Sciences, and the same goes for gender representation. These balances are the outcome of the open selection process.
The facilities
The Institute is housed in a completely renovated building designed to meet and facilitate groundbreaking research and knowledge exchange. Whether fellows work in the laboratory or mainly behind the desk, AIAS will provide the facilities needed. The AIAS building has spaces designed for small seminars and workshops as well as lectures and conferences that draw hundreds of audience members. Situated at the Aarhus University campus, AIAS is close to the city centre of Aarhus – a thriving university city that dates back to around 770 AD. AIAS offers in-house relocation services that include assistance with house searching and answering questions related to relocating to Aarhus. ​